The NMR Convenience Package consists of:
A Tube Cleaning Brush, a 5mm Sample Tube Washer
and a 72 position Tube Holder.
A promotional sale now through October 31. 2019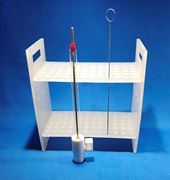 NMR Convenience Package

Consists of:
1 each 5mm Tube Cleaning Brush, NE-343-5
1 each 5mm NMR Tube Washer, NE-231-RC5
1 each 5mm Tube Holder, NE-330-5
Sorry, no subsitutes.

$180 value for only $150.00
Now through October 31, 2019