Why use QUALITY NMR sample tubes?
The Quality
Collecting the highest quality data in the least amount of time." It's fundamentally paramount and yet often overlooked. New Era creates sample tubes that produce consistent, high quality results to reveal all the data your spectrometer is capable of delivering. New Era quality gives accurate, reproducible answers for increased experimental efficiency and a boost in your productivity.
The Contrast
A poor quality tube* precesses within the magnetic field presenting an inhomogeneous, unstable sample to your NMR probe.
The consequences with poor quality tubes
Shimming will be time consuming, if not impossible.
Time averaged data collection will be inefficient, resulting in lost sensitivity and productivity.
Line broadening may obscure important minor spectral components.
Early time points in kinetic studies may be missed with loss of meaningful peaks.
Spinning side bands may produce spectral artifacts leading to wrong conclusions.
Delayed research and missed instrument time slots.
Poor spinning can cause costly damage to probe and solenoids.
NEW ERA NMR SAMPLE TUBES… give you high quality and consistent results.
Important Specifications
The following specifications are very important parameters to consider when choosing the best tube to use for your application. Generally, the higher the field, the better the dimensional uniformity needed. Following is a brief explanation of what these specifications represent.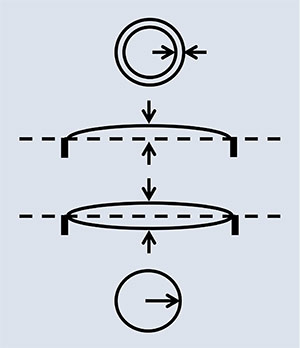 The maximum variation in wall thickness, which represents how centered the I.D. is to the O.D.
Deviation from the theoretical axis of the tube, which represents the amount of bow in the tube.
The Total Indicator Reading or runout from the theoretical axis. Both notations are used in this catalog.
They may represent the same absolute straightness, i.e.: camber0.0005"=camber TIR.0001".
Symmetry around the theoretical axis of the tube.
PRESSURE / VOLUME DATA
This information is presented for reference only. It is not a guarantee of performance, which will be dependent upon your applications and handling. Static testing is highly recommended before actual experiments are performed. The calculation for pressure includes a safety factor of four. Volume data is approximate.
Sample Tube
Wall Thickness
Pressure
50mm*
60mm*
5mm O.D.
5mm O.D.
5mm O.D.
0.38mm
0.77mm
1.4mm
154 psi
307 psi
565 psi
0.67ml
0.50ml
0.19ml
0.83ml
0.56ml
0.23ml
10mm O.D.
10mm O.D.
10mm O.D.
0.46mm
1.00mm
1.7mm
94 psi
203 psi
340 psi
3.30ml
2.50ml
1.7ml
4.00ml
3.00ml
2.0ml
*Volume at Sample Height